Bismuth Ingot Chunk 99.99% Pure ~ 1 Pound
SKU:

BISMUTH

UPC:

MPN:

547658

Availability:

in stock

Weight:

1.00 LBS

Shipping:

Calculated at Checkout
Bulk discount rates
Below are the available bulk discount rates for each individual item when you purchase a certain amount
| | |
| --- | --- |
| Buy 20 - 33 | and get 2% off |
| Buy 34 - 59 | and get 4% off |
| Buy 60 or above | and get 7% off |
Description
Sold by the chunk and averages 1 pound (0.9-1.1).

This item comes as chunks of bismuth that are broken off of a larger ingot and will weigh approximately 1 pound. This element is very brittle and can break up into smaller pieces during shipment. For orders of 3 or more pounds, we may send you a larger piece, rather than multiple small ones.

Physical Information

Atomic Number - 83
Relative Atomic Mass (12C=12.000) - 208.98
Melting Point - 520F
Boiling Point - 2642F
Density - 9.80
Weight Lb/in3 - 0.3541

Bi 99.99%

Certs for Bismuth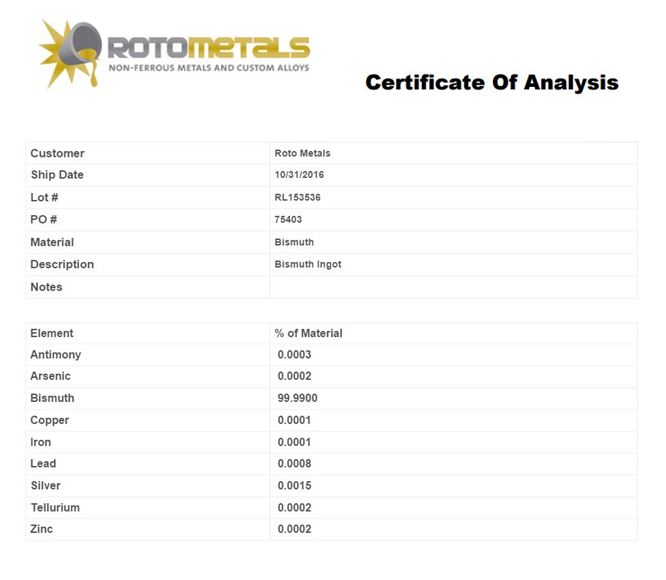 View All
Close
30 Reviews
Bismuth Ingot Chunk 99.99% Pure ~ 1 Pound

A speedy doorstep delivery in my case VIA FedX as I live way up in the Sierra Nevada Mountains West of Yosemite National Park. All Items ordered were well packaged and were remarkably accurate as to their advertised weight. I had spent a good deal of time browsing the Rotometals Web page where found a treasure-trove of valuable data on their products. Highly recommended and I will continue to do business with them.

Order came quickly, was packaged tightly, and was exactly as described. Would definitely order from this seller again.

Purchased for DIY smithing, great simple metal to work with, good purity, and was shipped and delivered to Australia within the same week Already placing another order now :)

Was very happy with the product!

Excellent customer service and shipping. Am placing another order!

I've recently started to create jewelry using bismuth. This metal has a low melting point and can be melted on a stove. The Rotometal bismuth worked great, I was able to make small crystals and other shapes for pendants and brooches. I just ordered a larger quantity.

As usual, the bismuth is delivered on time and in prime condition, but you also took care of the problem I mentioned in the last delivery, which was the packaging ! Great Job!

Came on time with no issues. High quality.

Big Beautiful Bismuth Chunks!

These were nice big hunky chunks! Can hardly wait to make crystals out of them for my orgones!

I ordered 12 pounds and received my order fast. I weigh the material and happily it weighted 12.4 pounds (a bonus). I will recommend this company to other of like mind.
View All
Close