Description
Bismuth Ingots equaling ~ 44 pounds
The slab if available is about 14.5"x4.5"x2"and then broken in half for shipping.
The picture is representative of about 40 pounds of bismuth.
This item comes as slab that is broken in half. You will get 2-4 pieces and maybe some smaller chunks or flakes of bismuth. This element is very brittle and can break up into smaller pieces during shipment.
Physical Information

Atomic Number - 83
Relative Atomic Mass (12C=12.000) - 208.98
Melting Point - 520F
Boiling Point - 2642F
Density - 9.80
Weight Lb/in3 - 0.3541

Bi 99.99%

Certs for Bismuth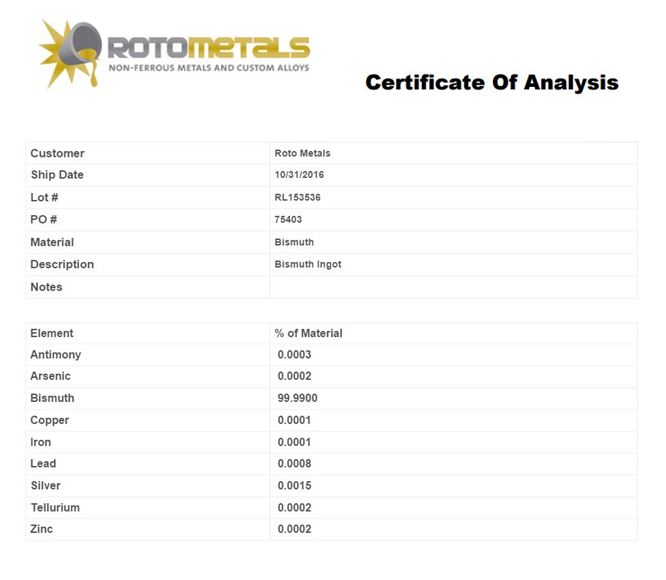 View All
Close
7 Reviews
Fast delivery and what I needed

Your bizmuth was exactly as described. I cant thankyou enough. Thankyou.

Just re ordered more.what does that say. Again, thanks.

Arrived in less than a week. Thanks

it is the cheapest anywhere and I use rotometals exclusively.

34 pounds of Bismuth. No more. No less

I'm going to try and get some crystals out of this!

Fast and easy

99.99% Pure Bismuth Ingots

The shipping was faster than expected and the quality of the Bismuth was excellent. Making lots of crystals out of this. I will be ordering more soon!
View All
Close