Bismuth Ingot Chunk 99.99% Pure ~ 1 Pound
SKU:

BISMUTH

UPC:

MPN:

547658

Availability:

in stock

Weight:

1.00 LBS

Shipping:

Calculated at Checkout
Bulk discount rates
Below are the available bulk discount rates for each individual item when you purchase a certain amount
| | |
| --- | --- |
| Buy 20 - 33 | and get 2% off |
| Buy 34 - 59 | and get 4% off |
| Buy 60 or above | and get 7% off |
Description
Sold by the chunk and averages 1 pound (0.9-1.1).

This item comes as chunks of bismuth that are broken off of a larger ingot and will weigh approximately 1 pound. This element is very brittle and can break up into smaller pieces during shipment. For orders of 3 or more pounds, we may send you a larger piece, rather than multiple small ones.

Physical Information

Atomic Number - 83
Relative Atomic Mass (12C=12.000) - 208.98
Melting Point - 520F
Boiling Point - 2642F
Density - 9.80
Weight Lb/in3 - 0.3541

Bi 99.99%

Certs for Bismuth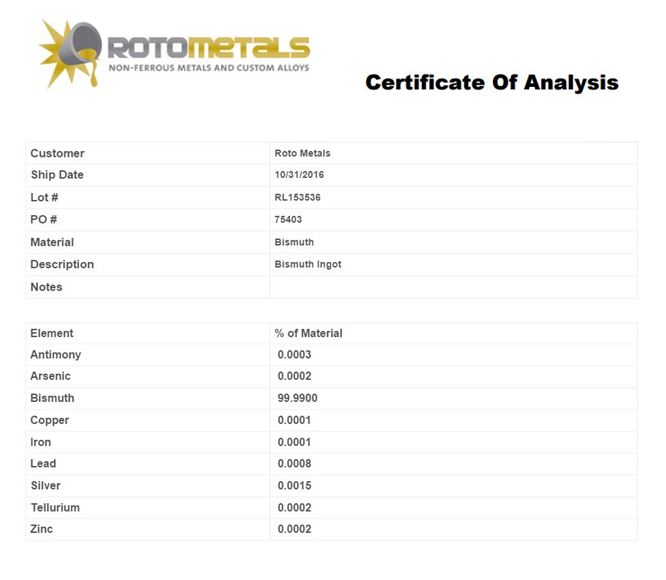 View All
Close
38 Reviews
Exactly what it says on the tin.

I received my chunk of bismuth, it's exactly what I ordered and didn't take long to get here. I will be ordering from Rotometals again.

thank you for the order

Having no problems with the product, most likely I will buy it again in the future!

Happy about the product order!

Shipping was on time and packaging kept everything safe and secure upon receipt. Thank You!

I only bought 1 lbs but still got great crystals

Exactly what you want melts good makes very nice crystals

Thank you for the Bismuth. Should it looks good.

Exactly what I wanted. If I need more metals, I will buy them from you.

Got my bismuth today. It came way quicker, than I thought it would. It will work great for my sinkers, when I mix it with my zinc. I highly recommend Roto metals to all the sportsmen, out there who like to diy , bullets,sinkers, jigs, or any other projects!!! Prices are fair , and shipping and delivery is the best. Whatever metals you need , if they dont have em , you dont need em!!! *****

Very happy with the bismuth ingot chunks!
View All
Close