Bismuth Ingot Chunk 99.99% Pure ~ 1 Pound
SKU:

BISMUTH

UPC:

MPN:

547658

Availability:

in stock

Weight:

1.00 LBS

Shipping:

Calculated at Checkout
Bulk discount rates
Below are the available bulk discount rates for each individual item when you purchase a certain amount
| | |
| --- | --- |
| Buy 20 - 33 | and get 2% off |
| Buy 34 - 59 | and get 4% off |
| Buy 60 or above | and get 7% off |
Description
Sold by the chunk and averages 1 pound (0.9-1.1).

This item comes as chunks of bismuth that are broken off of a larger ingot and will weigh approximately 1 pound. This element is very brittle and can break up into smaller pieces during shipment. For orders of 3 or more pounds, we may send you a larger piece, rather than multiple small ones.

Physical Information

Atomic Number - 83
Relative Atomic Mass (12C=12.000) - 208.98
Melting Point - 520F
Boiling Point - 2642F
Density - 9.80
Weight Lb/in3 - 0.3541

Bi 99.99%

Certs for Bismuth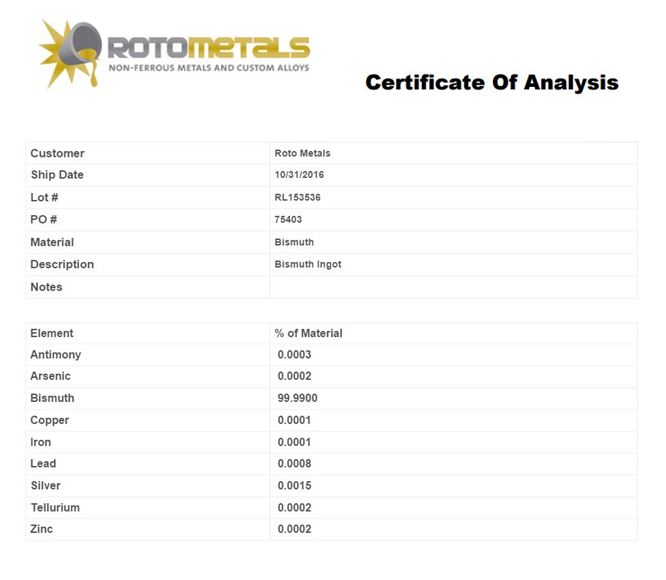 View All
Close
43 Reviews
Great company, easy ordering, quick shipping

Great products and fast shipping

Delivery was quick and very good product

My son loves to collect rocks and other things (pack rat). When he opened this up he was beside himself.

An excellent business to work with. Fast shipping item exactly as described. Thank you rotometals for making my child smile.

Very good product shipping was very quick and ingot was in tact

Exactly what it says on the tin.

I received my chunk of bismuth, it's exactly what I ordered and didn't take long to get here. I will be ordering from Rotometals again.

thank you for the order

Having no problems with the product, most likely I will buy it again in the future!

Happy about the product order!

Shipping was on time and packaging kept everything safe and secure upon receipt. Thank You!
View All
Close