Bismuth Ingot Chunk 99.99% Pure ~ 1 Pound
SKU:

BISMUTH

UPC:

MPN:

547658

Availability:

in stock

Weight:

1.00 LBS

Shipping:

Calculated at Checkout
Bulk discount rates
Below are the available bulk discount rates for each individual item when you purchase a certain amount
| | |
| --- | --- |
| Buy 20 - 33 | and get 6% off |
| Buy 34 - 59 | and get 12% off |
| Buy 60 or above | and get 20% off |
Description
Sold by the chunk and averages 1 pound (0.9-1.1).

This item comes as chunks of bismuth that are broken off of a larger ingot and will weigh approximately 1 pound. This element is very brittle and can break up into smaller pieces during shipment. For orders of 3 or more pounds, we may send you a larger piece, rather than multiple small ones.

Physical Information

Atomic Number - 83
Relative Atomic Mass (12C=12.000) - 208.98
Melting Point - 520F
Boiling Point - 2642F
Density - 9.80
Weight Lb/in3 - 0.3541

Bi 99.99%

Certs for Bismuth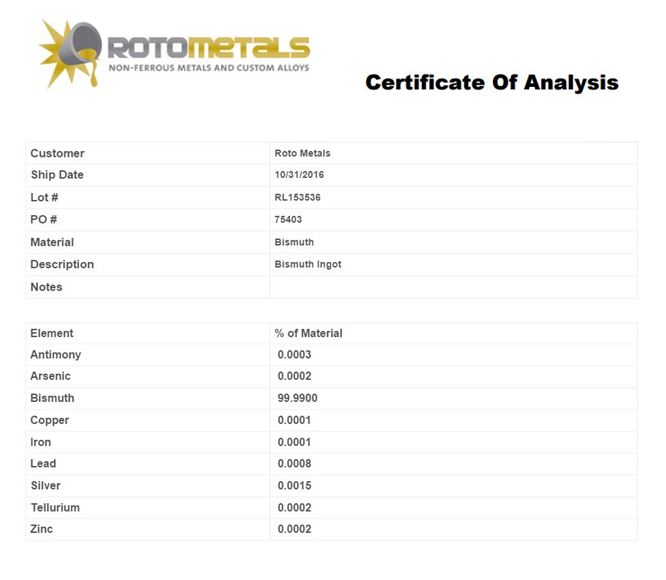 View All
Close
20 Reviews
As described, and fast.

Delivered quickly and accurately. Great product

I got what I paid for. Good pricing, fast shipping.

Super fast deliver and easy ordering. The bismuth chunks were what I expected and looking forward to using them in my project.

Forms really good crystals

The bismuth I ordered formed really beautiful crystals

Shipped promptly. Only wish the pieces were a bit larger.

Great product for lure making in states that ban the use of lead!

Was of decent purity. Melted down with ease.

Bismuth Ingot Chunk 99.99% Pure ~ 1 Pound

A speedy doorstep delivery in my case VIA FedX as I live way up in the Sierra Nevada Mountains West of Yosemite National Park. All Items ordered were well packaged and were remarkably accurate as to their advertised weight. I had spent a good deal of time browsing the Rotometals Web page where found a treasure-trove of valuable data on their products. Highly recommended and I will continue to do business with them.
View All
Close