Shipping FAQ
Will Call Hours - Must be paid for and ordered BEFORE YOU come-
Monday thru Thursday 8:00am to 4:00pm, closed for lunch 12pm to 1pm.
NO WALK IN ORDERS WILL BE ALLOWED EITHER.***
Free shipping- Not available to all states, Some high cost to ship states will not get free shipping. Not all orders or items will qualify
We ship from 6 locations to serve you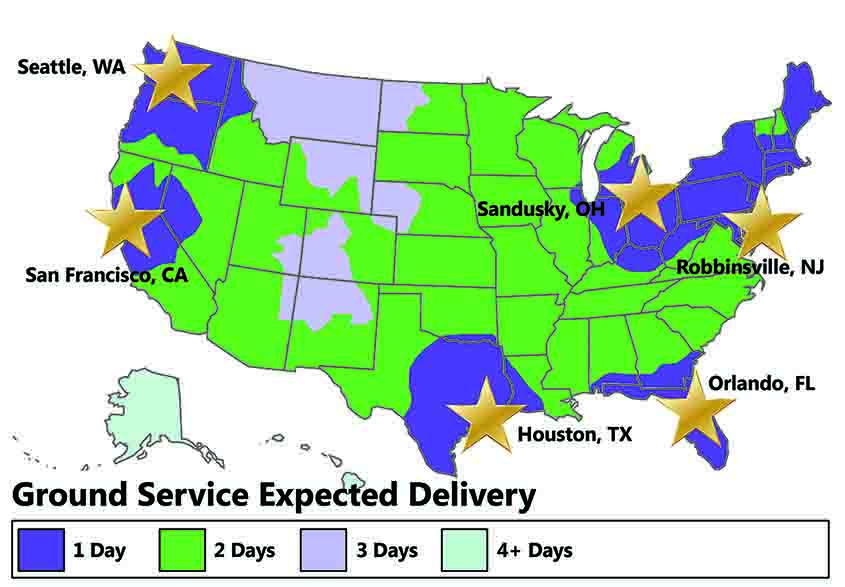 Approximate transit time from closest warehouse to your destination.
Currently, Will Call is only available at San Francisco warehouse and for some items in Cleveland
Not all warehouses stock all items.

EMAIL ahead to verify.
If you need a day definite delivery like Next Day (1 Business Day), 2nd, 3rd etc you must select that shipping option during checkout.
Economy ground or Free shipping orders have no money back guarantee, and ship out within 1-3 days.
---
We have an 11 am Pacific time cut off for any guaranteed same day shipping for air shipment. Rush fee may apply.
Free shipping only applies to website orders with an order minimum of $149.00 (USD) for small items that will fit in boxes that are 12" or smaller. Larger items such as zinc and lead sheets, boat and pot anodes, and lead bricks are examples of items that do not qualify for free shipping. Anything that has "with freight," "free freight," or "freight included" will ship for free. Free shipping does not apply to orders that are called in, faxed in or emailed in. Free shipping only applies to orders in the USA.
---
Delivery/transit times can range from 2-10 days as we reserve the right to select any carrier method we desire (Fed-Ex, USPS Mail, LTL Freight) unless otherwise specified during your checkout.
You must have a physical/street address and not just a PO Box as UPS and/or Fed Ex cannot deliver to a PO Box.
For oversized/heavy items, you must have a business address with loading dock or forklift to receive a pallet. If you require a lift gate, or have a residential address, additional charges will be incurred. Most freight carriers offer terminal pick up as an alternative to delivery, please call us for additional details. Please see Freight Shipping Disclosure below.
If you would like to ship your order on your FedEx/UPS account there is a $20 freight collect fee.
If you want your sheet metal shipped flat rather than rolled, there will be an additional crating charge of $120-$240 depending on size/length of the crate. Please contact us for shipping flat.
If you want to return an item, our shipping costs will be deducted from your refund. We do offer a 30-day return/exchange policy. All refunds/exchanges may be subject to restocking fees. Custom orders cannot be returned.
PLEASE NOTE: It is easier and cheaper for us to address delivery details prior to the shipping of your order. Once in transit, redelivery fees, etc may apply. Please feel free to contact us should you have any questions/concerns before placing your order.
Do you need your metal faster? Please select a defined shipping service speed during checkout, ie: Ground, 3 day, 2nd day air, next day air and we will do our best to get it out within 24 hours.
Freight Shipping Disclosure:
All freight inclusive packages are figured on delivery to a zoned commercial address with an actual loading dock or forklift and standard operating hours of 8am-5pm. Any charges we incur in addition to the standard delivery will be charged directly to you. Additional fees can include, but are not limited to:
Pre-delivery phone calls by carrier.
Lift gate services upon delivery.
Deliveries to farms or ranches (Carriers do not consider these as being commercial).
Schools, colleges, hospitals, hotels, etc. that do not have an actual loading dock or forklift capabilities.
Secured installations that require a special escort or inspections (military installations, 
construction sites, labs, etc.).
Re-delivery fees due to no one being at delivery site during standard hours of 8am-5pm, unless pre-arranged.

To help alleviate additional charges being billed to you, if you have any doubts or questions, call us and we can get everything situated before shipping. There still may be some additional charges that need to be added, but if they are done beforehand they are much cheaper than if you are billed later. Below are included some of the standard/possible shipping charges that may need to be added to your order:
- Pre-delivery call $25

- Lift gate services $85

- Secured sites $85

- Residential deliveries $85.00


You do have a choice of either having the shipment delivered to a local business that does have a dock and normal manned shipping hours or picking up your shipment at the local delivery hub for your area. There is no additional charge if your order is picked up within 24 hours of being received in at the terminal. 


For International and Canadian Orders:
Unfortunately, we are unable to offer our Free Shipping option for International/Canadian orders, but we have some great rates with FedEx Economy 4-6 days that includes the brokerages fees. However, it does not include taxes and duties, so Customs may contact you before delivery of your items to pay fees directly to them. If you are unsure of the costs, please contact your country's customs for more information. FedEx Priority is an option for delivery 2-3 days anywhere in the world, please contact us for more information.
In order to find your shipping rates, do the following:
1. Add the items you want to the shopping cart
2. Go to the Shopping Cart by clicking View Cart or Checkout
3. Under Shipping Rates, click on (change my address) and enter you country's information
4. Click the blue "Recalculate" button located under the Total
If you want
New Lead Shot
, especially in Canada, we can fly the shot to you cheaper and faster than the ground option. Please use this link to order New Shot:
New Shot