Zinc Cast Rods
All of our Zinc Rods are 99.6% min zinc. Our Zinc Anodes are made to the current MIL-A-18001K spec (aka ASTM B-418 Type 1) if you need a special alloy, please contact us for pricing.

We have 2 types of zinc rods, gravity cast and extruded under pressure.

Which one should I choose?

Zinc Cast Rod can be made in 1 foot or 3 foot lengths and is less expensive and has a wider selection of diameters than extruded. However, cast rods are not as pliable as the extruded rods and are more likely to have chill lines as well as some air pockets inside due to trapped air in the casting process. Please see below for examples of cast rods that have been milled. We recommend ordering a larger diameter to compensate for this if it is an issue for you. Tolerance +/- 1/8" diameter.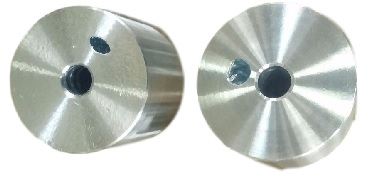 If you choose 3 foot rods, please let us know in the customer notes section of your order. Also, there is NO free shipping for 3 foot rods, so please choose economy shipping at check out.

Zinc Extruded Rod is more expensive than the cast and is better if it is needed to be bent (it's not made for bending, but holds up better then cast). Extruded rods can come in longer lengths than cast and are less likely to have air pockets inside due to trapped air.

| | | | |
| --- | --- | --- | --- |
| Diameter | Weight | Diameter | Weight |
| 5/8" | 1 | 2" | 10 |
| 3/4" | 1.45 | 2.5" | 17 |
| 7/8" | 1.86 | 3" | 23 |
| 1" | 2.6 | 3.5" | 32 |
| 1.25" | 4 | 4" | 41 |
| 1.5" | 5.7 | 5" | 60 |
| 1.75" | 8 | 6" | 90 |