Tin Ingot 99.9% Pure
SKU:

TinIngotForm

UPC:

MPN:

548033

Availability:

in stock

Weight:

1.00 LBS

Shipping:

Calculated at Checkout
Bulk discount rates
Below are the available bulk discount rates for each individual item when you purchase a certain amount
| | |
| --- | --- |
| Buy 30 or above | and get 5% off |
Description
Sold By the Ingot

Tin 99.9% pure ingot.
Each ingot measures about 3/4" x 1.5" x 4" and weighs approximately 1 pound. (+/- .1 pound). This smaller sized ingot makes it much easier for you to melt and use!



Physical Information


Atomic Number: 50

Relative Atomic Mass (12C=12.000): 118.71

Melting Point: 450 F

Boiling Point: 4100 F

Density: 7.29

Weight Lb/in3: 0.2633

Click here for current Certificate of Analysis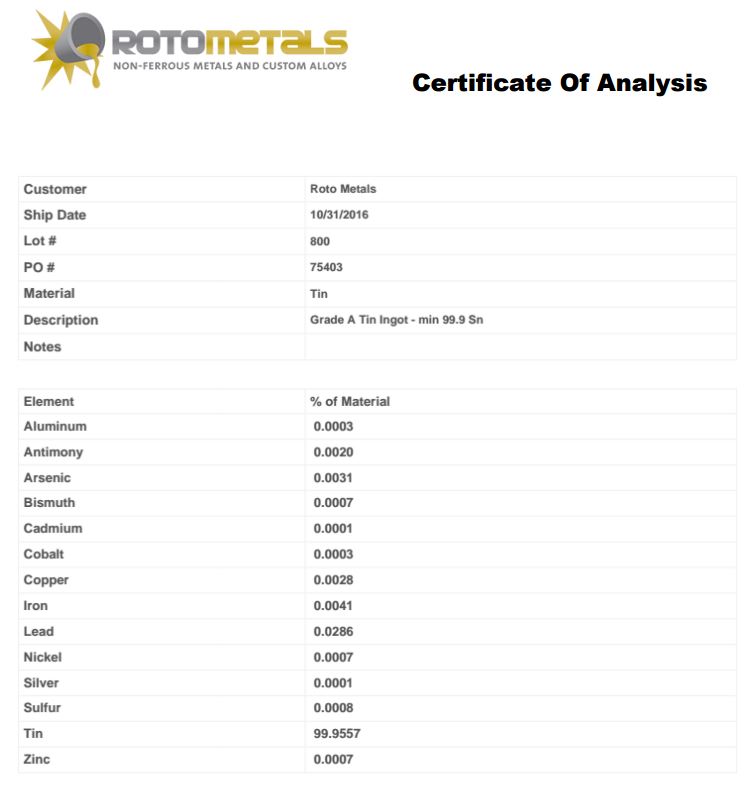 View All
Close
16 Reviews
I've been a customer over 15 yrs and RotoMetals is a producer of high quality tin and other metals. Wonderful for tin casters and artists. Great product!

Always fast shipping and excellent product line.Thank you for being a great company. This is not the first time I have bought from you . Thanks many times over. Larry

Excellent product and extraordinary service. Thank You !

Very pleased makes a great gift

I've been using this for metal casting in my engineering classes, and it's been a reliable metal to work with. Haven't had any problems with it, and will continue using for projects

I like handgun bullets on the softer side between 8-10bhn. I now buy pure lead and add about 5% tin to get where I want to be. I have a small 10lb Lee Pot that I use for all my castings. I was buying my lead already premixed at 96-2-2. The price almost tripled so it was time to mix it myself. This little bar makes it sooo easy. I just get the pot up to temp and dip the bar into the molten lead. Yes, it's a guestimation of sorts, but my bullets are performing just as well as before from my observations.

Very pleased with the tin ,shipping was quick , good people to deal with! Will be doing more.Thanks Walt

Great product, fast shipping awesome people to do business with!!!

Great shipping time and a great product.
View All
Close